Plantation Shutters

Distinguished by their unique and wide horizontal louvres, we offer a collection of premium plantation shutters available to personally design and order via our website. From pure silk to pearl white plantation shutters, our louvres come in a variety of colours and styles to suit your specific decor. Characterised by their elegant style and versatility, shutter blinds also provide exceptional light control and privacy. Design and order your personalised plantation shutters online with Veneta today.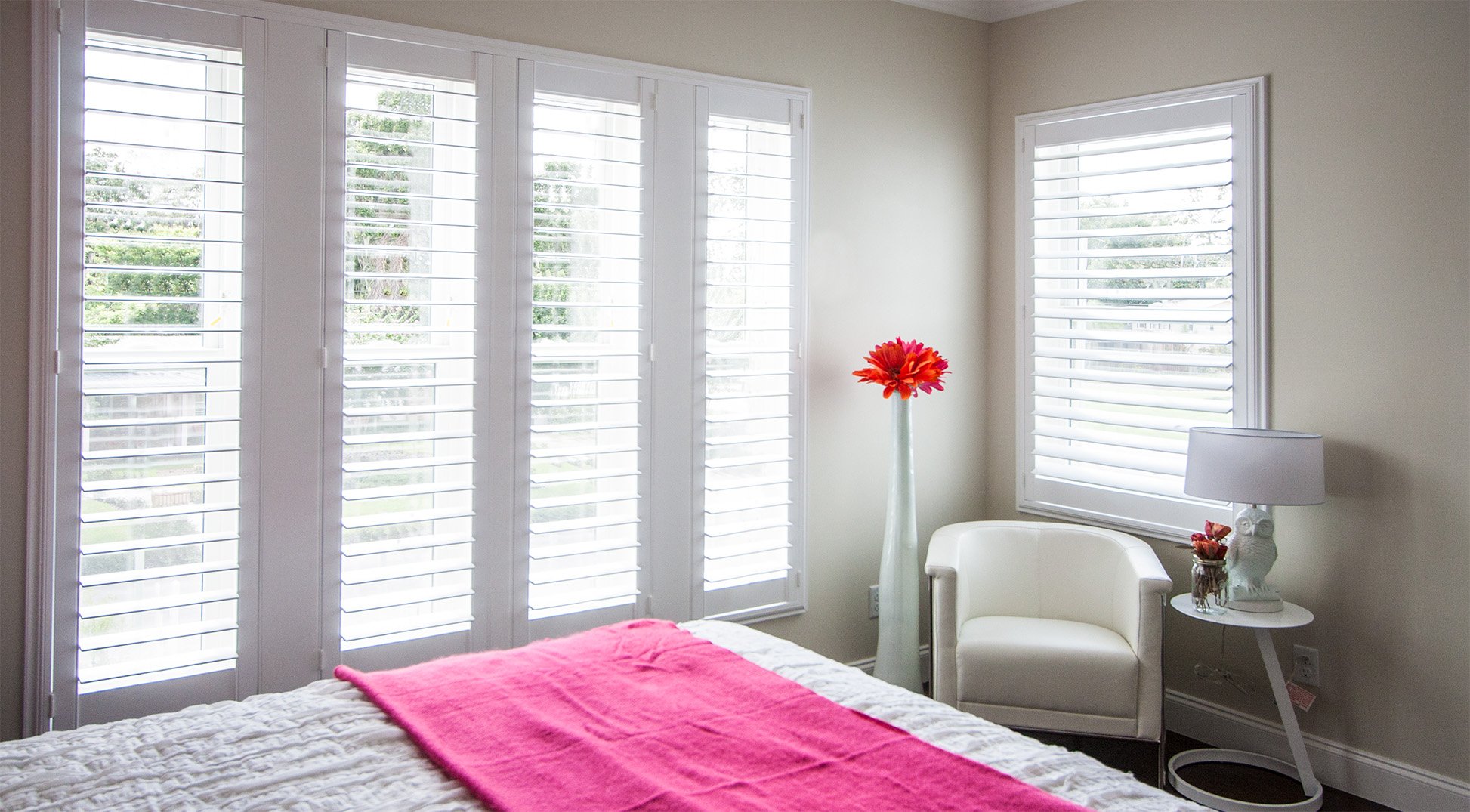 Industry Leader On Shutter Blinds

We've been proudly serving Australians with premium window treatments for over 40 years. Our decades worth of industry experience is reflected in the quality of our high-grade shutters. As pioneers in the industry, we're always at the forefront of introducing design innovations that enhance the functionality and style of your blinds. You can be certain when shopping premium plantation shutters online with Veneta that your order is going to meet your standards.
Plantation Shutters Reviews
Premium Plantation Shutters Online

Our online approach conveniently saves you time from visiting a physical retailer in person. We've made it simple to order made to measure plantation shutters via our website from the comfort of your own home. You can be certain that when you design your order with Veneta, it will be manufactured exactly to your requested specifications.

Additionally, our internal window shutters are produced and dispatched directly from the factory. This allows us to pass huge savings directly onto you by avoiding expensive showrooms and middlemen. We believe that a hassle-free shopping experience and an even greater customer support team, makes our custom shutters stand out amongst the rest.
Some Ideas & Inspiration
Explore some commonly asked questions and find inspiration for your home window furnishings. Veneta products offer full customization options for you so you can design it exactly how you would like it to be, the choice is yours.
If you would like some help or ideas with a tricky window, our product
specialists are available by phone or video consultation to assist you and
provide some inspirational options for your home.
Custom Plantation Shutters To Last A Lifetime

It's never been easier to bring your dream window treatments to life. Our full collection of shutters and blinds are exclusively manufactured using high quality materials. We also offer interactive design features that allow you to fully customise your made to measure plantation shutters so that they perfectly complement the aesthetic qualities of your space.

As highlighted, our range of shutters are available in three hues; pure white, silk white, and pearl. Please see our Colour Samples page to browse our options in detail.

Not only can you tweak the cosmetic qualities of your custom shutters, but you can also personalise them to feature desirable functionality options. This includes selecting your preferred blade size, the fitting of your frame, tilt control system, the number of panels, and panel configuration.

All of our window fittings are produced using premium materials; specifically, TecWood. This high quality substrate is manufactured using ABS blades that are reinforced with LVL inserts. TecWood offers great durability, and closely mimics the aesthetics of natural hardwood, making it perfect for shutter blinds.
Premium Quality Blinds & Shutters
Shop safe online like never before in the window coverings industry with Veneta. We know our premium quality and we back that up with our 100% Satisfaction Guarantee included on your order.
Saving You Money With Our Easy DIY Measure & Install Approach

One of the benefits of ordering plantation shutters online with us is that we swiftly deliver your shutters directly from the factory. Our online approach can save you up to 70% on custom plantation shutters! As the industry leader in Australian blinds and shutters, we are the more affordable choice compared to other in-home visit, measure and install business models. With Veneta, our DIY approach saves you from paying exorbitant prices on measurement and installation services. Not only do we provide premium quality and savings, our unique, custom and DIY service grants you full control during the design phase. In the comfort of your own home, you'll be able to choose styles and colours to match the room, and customise your blinds to meet your specific needs. Worried about making a measuring mistake? As part of our 100% Satisfaction Guarantee shop safe as we provide free Measure Insurance on every order.
100% Satisfaction Guarantee For All Internal Window Shutters

What sets us apart? Our 100% Satisfaction Guarantee is industry leading, and not offered anywhere other than Veneta. Unlike other providers, this includes a free and comprehensive video or phone consultation that guides you through the easy measurement process, unbeatable 8 year warranty, and much more.
Have any questions?
We're here to guide you to our products
They're a popular window treatment that feature distinctive wide louvres or slats. Our shutters are all manufactured with TecWood. This premium material features a veneer, which mimics hardwood and provides additional durability. Our interactive website allows you to pick from a variety of styles and colours to suit your specific decor. They make for an attractive, and functional addition to any home.
Like most other blinds and shutters, indoor shutters are used to control the amount of light and air that enters a room. They are also helpful with providing additional privacy and security. Our website furthermore allows you to order window treatments which are made to measure. This way, your shutters will arrive perfectly fitted to your specific window.
Shutters are becoming increasingly popular due to their rustic aesthetic appeal, but can also provide great protection from the sun's harmful UV rays. They are also an effective way to keep heat out of a home or building if they are properly installed. When shut, the frame and louvres prevent warmer air from the window covering's exterior from entering the room.
At Veneta, our range of shutters that feature a single panel can reach a maximum span of 960mm in width, and bi-fold panels can reach a maximum span of 600mm in width; with options to include multiple panels in the overall design. Our shutters with 4 bi-folded panels can reach a max overall width of 2,200mm. However, if you add in "T" posts, you can achieve an overall width of up to 3,760mm with 4 panels. Furthermore, our shutter blinds also have louvres coming in two sizes, 76mm and 89mm. Larger louvres generally provide a better view of the exterior. Although, they may look disproportionate and jarring on smaller windows.
At Veneta, we offer two different frames to choose from when ordering your personalised shutters; the Reveal Fit and Face Fit frames. Reveal Fit frames sit within the reveal of your window. The reveal is the term used to describe the section of your frame adjacent to the window. If your reveal lacks sufficient depth to install your frame, you may be required to order a Face Fit frame. These are generally mounted onto the architrave of your window. If you have the depth to accommodate a Reveal Fit, you have the option to choose between either frames based on your stylistic preferences.
They do indeed come in a range of colours. Our shutters are available in three hues: pure white, silk white, and pearl. To inspect these options, please see our Colour Samples page.
There are two ways to operate our custom plantation shutters; we offer Control Bar and Clear View controllers.

Control Bars are attached to the front of the louvres, and are adjusted to operate all louvres simultaneously. Control Bars feature a traditional operating style.
Clear View controllers feature a hidden gear system that allows you to tilt one louvre by hand to adjust all louvres. Clear View controllers remove all obstructions from the shutter, which improves your view when the louvres are open.
One additional benefit of owning louvre shutters is that they're relatively easy to clean and maintain. To clean your shutters, simply use a duster to sweep away any dust or detritus that has accumulated on your louvres. The frame of your window may also be wiped down with a damp rag. From time to time, you may furthermore want to check the frame for rust.